Posted by admin | Filed under Gigs
Hello,
Slowly digging ourselves out and into the New Year… just a heads up on a wee show this coming weekend.
On Saturday 2nd Feb, I'll be playing a few tunes at Leith Tape Club's launch of Reel 3. Nice line-up on the tape/cd-r and those playing on the day! Details from the boss (The Oates Field) below… facebook event here.
// Andy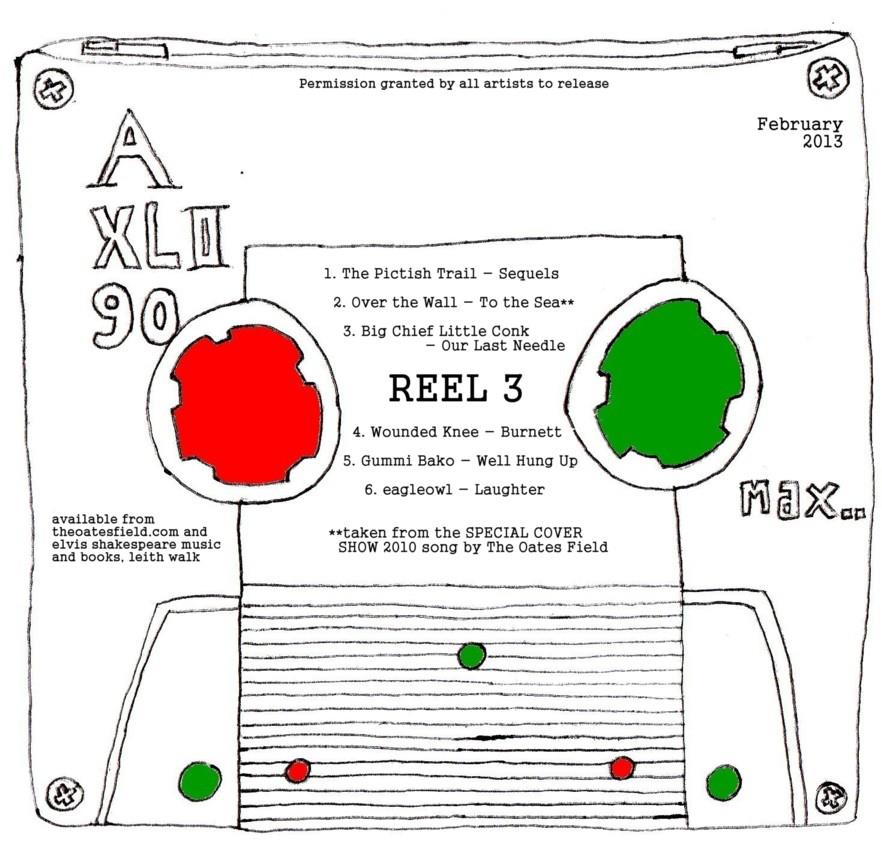 Playing on the day from 2 – 11pm:
Little Pebble
Jonnie Common
Fuzzystar
Gav Prentice
Lomond Campbell & River of Slime (collaboration)
The Last Battle
The Oates Field
Book Group
And this is who will feature on REEL 3, the CD-R (included in ticket).
1. The Pictish Trail
2. Over the Wall
3. Big Chief Little Conk
4. Wounded Knee
5. Gummi Bako
6. eagleowl
The release features songs taken from the previous tape clubs that ran between 2009-2010.
Tix: £8 in advance, £10 on the day. Available here.
Posted by admin | Filed under Gigs
We're playing the final Tidal Wave of Indifference blog gig this year! On Saturday, October 27th we'll be back at the Wee Red Bar at Edinburgh Art College along with past gig buddies The Last Battle, aswell as Plastic Animals and Early Morning Satellites.
Tidal Wave Facebook event info/stuff here.
Cannae wait!
// Andyx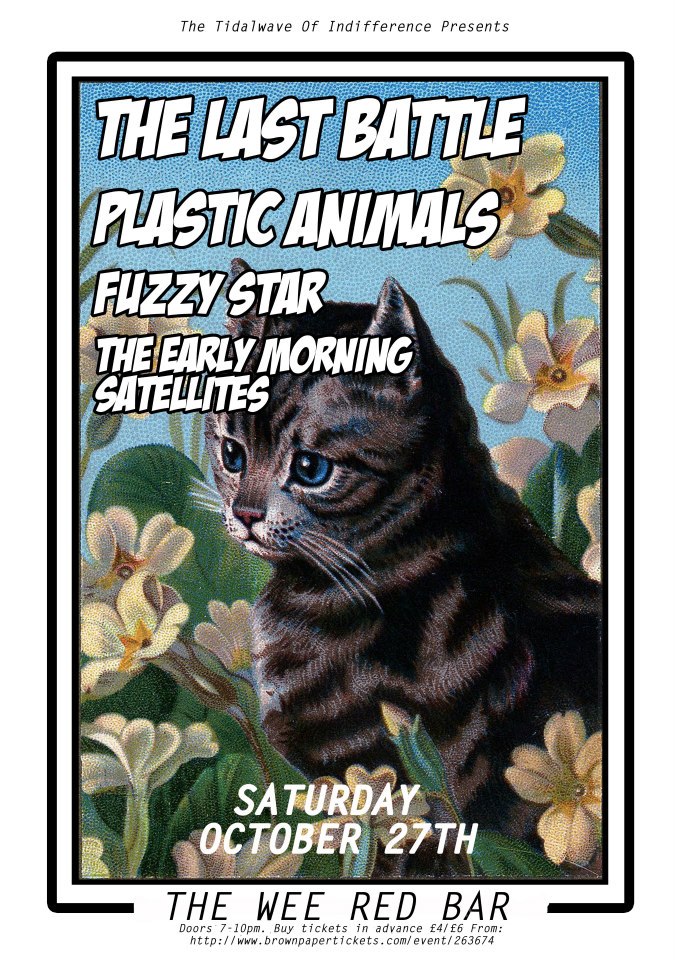 Posted by admin | Filed under Gigs
On Friday June 29th we'll be back in London, playing at The Wilmington Arms, in Clerkenwell. Also on the bill is the brilliant Charley Sharp a.k.a. Pollyanna Valentine and Lindsay West. Early bird tickets are available now for £5. Read on for the official blurb… and if you fancy telling us you're coming on Facebook clickity click here.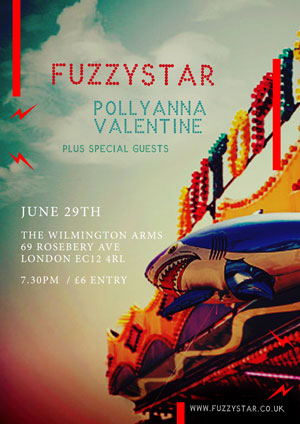 Pollyanna Valentine
Pollyanna Valentine is the muse of Charley Sharp, via New York City…California… Arkansas, USA.
http://www.myspace.com/pollyannavalentine
Lindsay West
A Scottish-American singer-songwriter and one-time member of the acclaimed folk-Americana outfit, Matthew and the Atlas, as well as half of the alt-folk duo Love.stop.repeat. She has also just released her third solo record, 'We Came in from the Sea' and is gathering nice quotes wherever she goes:
"Lindsay West's honeydew pipes evoke a young Joni Mitchell. She's little short of a revelation."
Rick Martin, NME
"Lindsay West turns in a sweet-yet-earthy vocal… utterly captivating."
Lou Thomas, BBC Music
http://lindsaywest.bandcamp.com/
Tickets:
£5 in advance: http://www.wegottickets.com/event/172891
£6 on door.
Posted by admin | Filed under News
Hello,
Been a while since the last update, in that time we've been nearly snowed in at a great little studio in London (Hopefully more news on that soon).
Around the time of all that I did a little Q and A with The Tidal Wave of Indifference, a great wee Edinburgh music blog, or since I work with its main writer, 'Stu from work'… and here it is. Kind words indeed.
Andyx
Tags: wee chat
Posted by admin | Filed under Gigs
Heylo,
Hope all's going well! Just a wee note to say there's another Edinburgh gig in March – on Saturday 24th, supporting Graeme's (formerly of The Kays Lavelle) new project, Bad Books. It's at Sneaky Pete's in the Cowgate. More specifics, etc. when they're confirmed.
Andyx
Posted by admin | Filed under Gigs
Hello,
As you may have seen, we're in Manchester at the Castle Hotel pub this weekend to play a Northern Noise gig, their first ever night in fact, so it should be pretty special! The line-up for the evening is Narwhals, ourselves and headliners Hhymn who are on a wee tour ahead of their album launch in May.
There are a limited amount of tickets left and only a few available on the door so get booking if you fancy it…
Andyx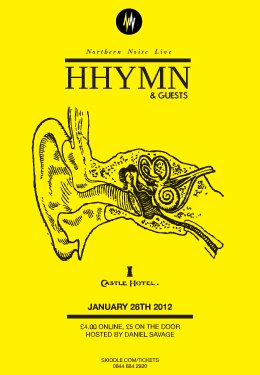 Posted by admin | Filed under Gigs
Hello,
We'll be having a Christmas shindig again this year! This time in Edinburgh (Facebook RSVP here).
On Saturday December 17th, we're playing a full band show at Sneaky Pete's, along with Alan Oates of Little Pebble fame, who'll be performing under his distortion-tinged band project The Oates Field, they released a great album Wild Oates this year! Also joining us is Giorgos Bouras with his project The Occasional Flickers who sound like the best mix of all your favourite indie bands and themselves! Or as Bart from Eagleowl put it "Scottish indie pop with a Greek accent." They've a new album too, and you can find out more about that on their facebook.
Tickets are £5 on the door, or you can buy them online in advance for £4 here: http://www.wegottickets.com/event/145677 .
// Andy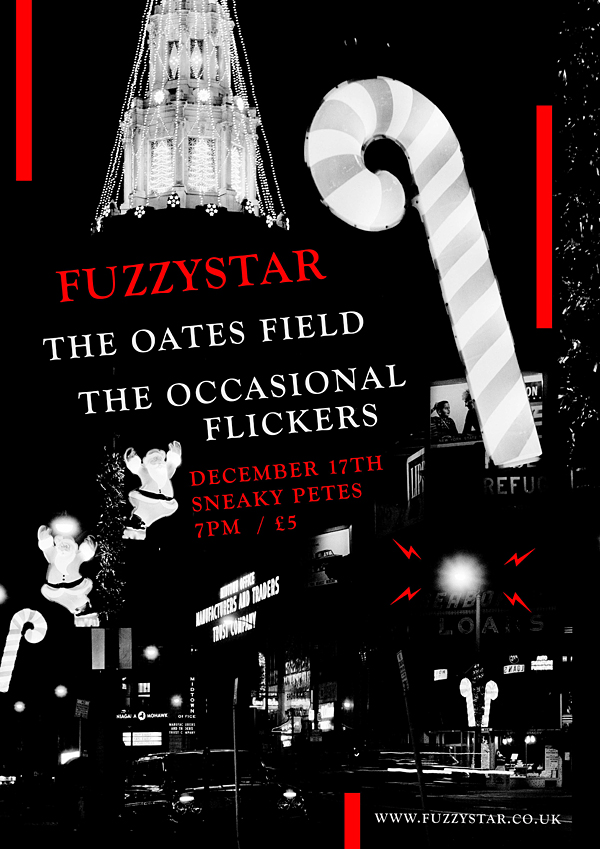 Posted by admin | Filed under News
Andy recently nipped in to Roundhouse Radio (photographic evidence below) to have a wee chat with the lovely Grace Huber, presenter of the AWAL On Air radio show – a new Roundhouse Radio/AWAL collaboration.
They talked about songwriting, Fuzzy Star and being on the AWAL compilation 'We Are Folk Vol 1' that came out last week. He also played a few acoustic songs. The results of both these things and a contribution from Patrick from AWAL are  being broadcast tomorrow, Tuesday October 25th as part of the first AWAL On Air show. [Updated 26/10] You can listen again here, Patrick from AWAL is at about 23 minutes, the session is at  41 ish.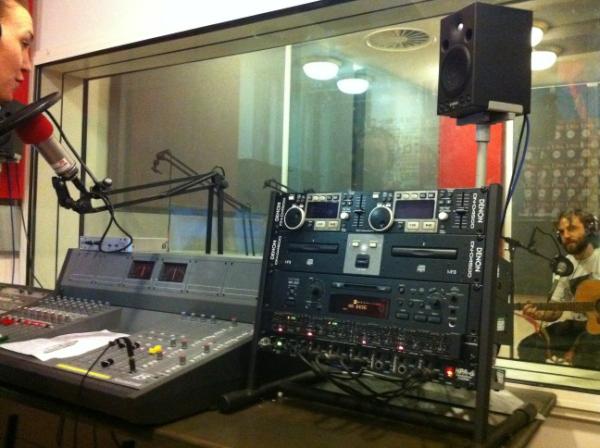 @AWALonair Twitter
AWAL On Air Facebook page
Posted by admin | Filed under Releases
The artist-friendly folks at AWAL are putting out a digital compilation featuring a selection of folky and acousticy music on their digital distribution roster and Fuzzystar are on it. Called We Are Folk Vol 1., Late Night Radio from our acousticy EP of the same name ends the compilation of ten tracks nestling alongside artists including  The Bonfire Band, Passenger, Ruarri Joseph and  BBC Radio 2 Award Winner Megan Henwood. It'll be out next Monday (October 17 ) and is available to pre-order from iTunes, or sample it below.
We Are Folk Vol 1. on the AWAL Recordings website.
Tags: releases, We Are Folk
Posted by admin | Filed under Gigs
Hello,
Apologies for the slight radio silence. There's been one of those tedious post-festival/away on holiday/back from holiday but now ill lulls around here of late… now broken by:
The Ides Of Toad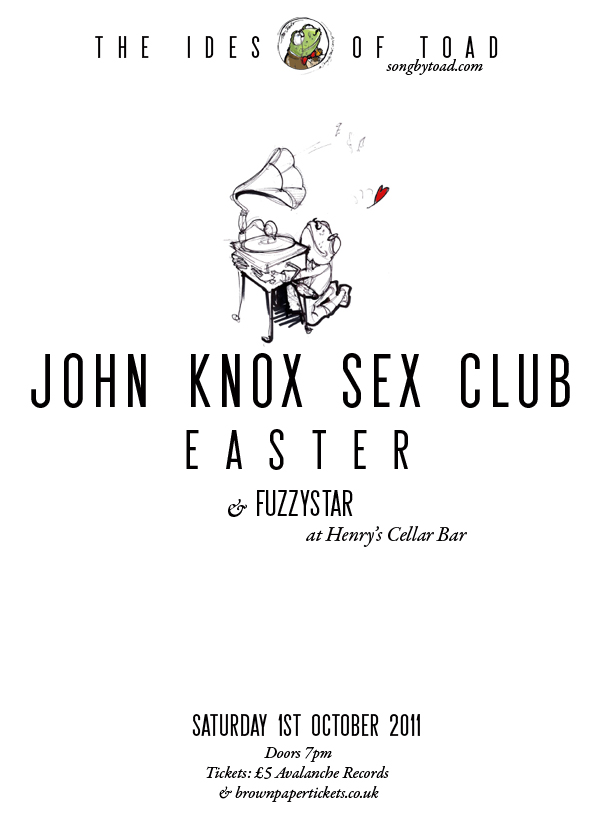 Organised and ran by Matthew of the Edinburgh based Song By Toad website/label, this next Saturday (Oct 1st) there'll be a Fuzzystar contingent supporting the highly recommended John Knox Sex Club and Mancunians Easter – which if band names are anything to go will indeed be as brilliant live as they sound online! Things kick off from 7pm at Henry's Cellar Bar . Go on, rouse your work's IT Department, try that John Knox website address below…
Mr Toad's Official Facebook RSVP: http://www.facebook.com/event.php?eid=284222774925552
Mr Toad's supplementary information:
"The John Knox Sex Club have a fantastic new album out, and will be bringing their epic, gothic folk to Henry's to celebrate, with support from Easter, who are travelling up from Manchester, and Edinburgh's Fuzzystar."
http://thejohnknoxsexclub.bandcamp.com/
http://soundcloud.com/easterband