Posted by admin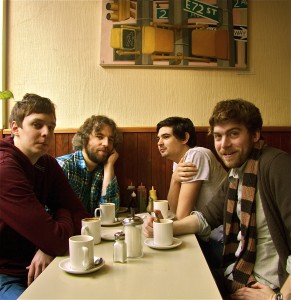 Fuzzystar is the moniker of Edinburgh native Andy Thomson and what has expanded become a four-piece band. Performing off-kilter indie pop that is filled with narrative, melodies and intermittent flashes of lo-fi fuzz. At gigs and on radio they have been compared to Brian Wilson, Elliott Smith Sebadoh/Lou Barlow, The Lemonheads, Neutral Milk Hotel and Mark Kozelek of the Red House Painters.
Line-up: (L-R)
Jo Stirland (drums)
Andy Thomson (guitar/lead vocals/lyrics)
Gareth Thomas (bass)
Andrew Thompson (guitar/vocals/percussion)
DISCOGRAPHY
The Late Night Radio EP – June 2010.
A four track acoustic EP/home recording.
4 out of 5 "Absolutely wonderful dream-pop" – God Is In The TV
"Like the result of an illegitimate affair between a Scottish Brian Wilson and Elliott Smith." – Records Make Great Pets.
Vinyl style CD/stream available from Bandcamp.
Album
Debut album halfway through – finishing up Summer 2013.
Contact/Booking:
Feel free to get in touch here.
Elsewhere on the web:
Facebook page.
Twitter – @fuzzystar.
Bandcamp.
yes i enjoyed my time in london.. it was the best trip ever... so Andy, when is the lp coming? i can t wait and my little girl can wait it either.. she likes your music very much.. we will come to see your christmas gig if we won in lottery :) but hope we will hear more your music, its fantastic....
Hi.. I just wanted to thank you for your ep album which came in the mail today. So thank you. Hope i can see you guys again someday. Sam