Posted by admin | Filed under News
Andy recently nipped in to Roundhouse Radio (photographic evidence below) to have a wee chat with the lovely Grace Huber, presenter of the AWAL On Air radio show – a new Roundhouse Radio/AWAL collaboration.
They talked about songwriting, Fuzzy Star and being on the AWAL compilation 'We Are Folk Vol 1' that came out last week. He also played a few acoustic songs. The results of both these things and a contribution from Patrick from AWAL are  being broadcast tomorrow, Tuesday October 25th as part of the first AWAL On Air show. [Updated 26/10] You can listen again here, Patrick from AWAL is at about 23 minutes, the session is at  41 ish.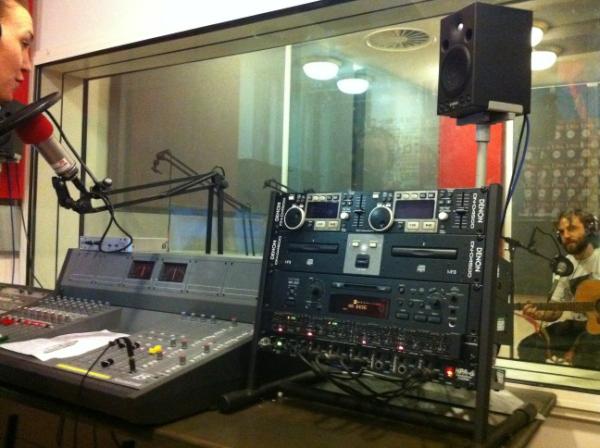 @AWALonair Twitter
AWAL On Air Facebook page
Posted by admin | Filed under Releases
The artist-friendly folks at AWAL are putting out a digital compilation featuring a selection of folky and acousticy music on their digital distribution roster and Fuzzystar are on it. Called We Are Folk Vol 1., Late Night Radio from our acousticy EP of the same name ends the compilation of ten tracks nestling alongside artists including  The Bonfire Band, Passenger, Ruarri Joseph and  BBC Radio 2 Award Winner Megan Henwood. It'll be out next Monday (October 17 ) and is available to pre-order from iTunes, or sample it below.
We Are Folk Vol 1. on the AWAL Recordings website.
Tags: releases, We Are Folk
Posted by admin | Filed under Gigs
Hello,
Apologies for the slight radio silence. There's been one of those tedious post-festival/away on holiday/back from holiday but now ill lulls around here of late… now broken by:
The Ides Of Toad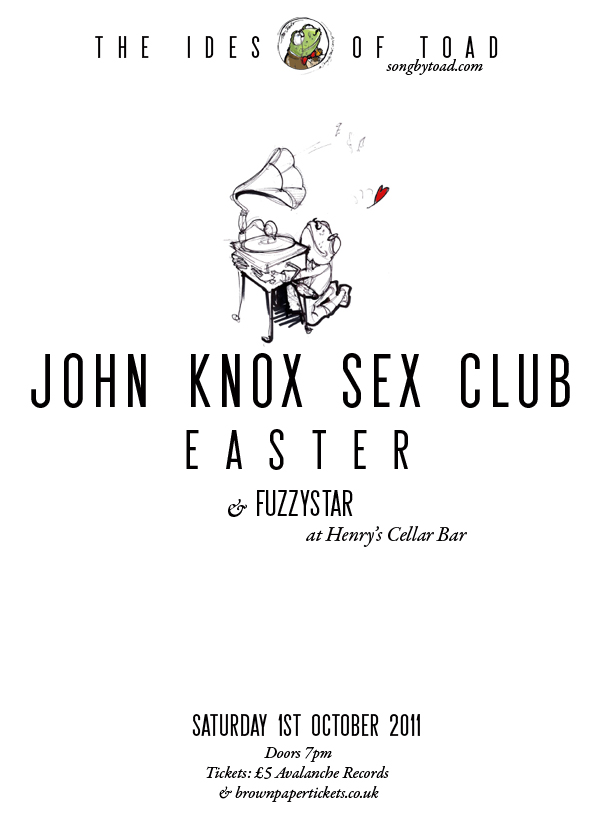 Organised and ran by Matthew of the Edinburgh based Song By Toad website/label, this next Saturday (Oct 1st) there'll be a Fuzzystar contingent supporting the highly recommended John Knox Sex Club and Mancunians Easter – which if band names are anything to go will indeed be as brilliant live as they sound online! Things kick off from 7pm at Henry's Cellar Bar . Go on, rouse your work's IT Department, try that John Knox website address below…
Mr Toad's Official Facebook RSVP: http://www.facebook.com/event.php?eid=284222774925552
Mr Toad's supplementary information:
"The John Knox Sex Club have a fantastic new album out, and will be bringing their epic, gothic folk to Henry's to celebrate, with support from Easter, who are travelling up from Manchester, and Edinburgh's Fuzzystar."
http://thejohnknoxsexclub.bandcamp.com/
http://soundcloud.com/easterband
Posted by admin | Filed under Gigs
Hello,
BAD NEWS:
Unfortunately our Soup Kitchen gig on September 1st has had to be postponed. We're working on a new date and will hopefully have that confirmed pretty soon.
Thankfully followed by…
GOOD NEWS: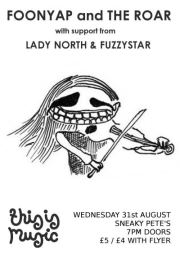 Andy and Malcolm will be supporting Foon Yap from (of Woodpigeon fame) when she brings her Foon Yap and The Roar band to Edinburgh this coming Wednesday  (August 31)  for a This Is Music gig at Sneaky Pete's. Also on the bill are Lady North so it should be a good and noisy one!
Doors are at 7pm. Entry is £4/5. For full info and FB event click here.
Posted by admin | Filed under Gigs
We'll be at Festibelly 2011 this coming weekend. On Saturday we're heading down to the New Forest for a set in the Autumn Shift tent. We're going to be on sometime late afternoon, follow us on Twitter (@Fuzzystar) and we'll post exact timing nearer the weekend. Facebook event for the Autumn Shift tent here.
Posted by admin | Filed under Gigs
We're back home and fighting off one of those post-Festival illness things you sometimes get, possibly from subsisting purely on Guinness and crisps for several days. Thank you to everyone who came along to see us open the Autumn Shift stage on Friday night and spoke to us over the weekend, we had a blast!
The rest of our weekend was spent taking in some drum porn in the shape of Battles, enjoying Revere and Kat Flint's sets and grinning throughout the mercurial whirlwind of John Cooper Clarke's performance, "Come on people, this is class-A material at charity prices!" Not to mention a large amount of time relaxing by the entertainment/bonfire at the Autumn Shift tent itself.
Roll on the next one!
Posted by admin | Filed under Gigs
This coming Friday (August 5th), Andy's playing one of the slots at Lach's Antihoot at the Edinburgh Fringe Festival. Kicking things off at midnight he'll be doing a couple of songs at the start of  three hours of pretty much anything goes, from comedy to dance, spoken word, magic and performance art.
Facebook event here.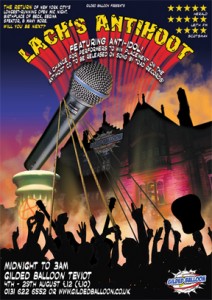 Lach used to run now legendary The Fort open stage in New York that was the epcicentre of the New York Antifolk movement , graced by performers such as Beck, Regina Spektor, Ben Kweller and The Moldy Peaches in their early days – now he's bringing it back to Edinburgh from August 4 – 29 for it's second run following 2010's rave reviews.
"NYC's infamous open stage! Lach discovered Beck, Regina Spektor, the Moldy Peaches, who will be next?
5 Stars (Herald).
'Face-ache funny!' (Guardian).
For weekend tickets click here: Lach's Antihoot.
http://www.antifolk.net
http://www.gildedballoon.co.uk/ 
Related show
Posted by admin | Filed under Uncategorized
We have returned from Paris intact, despite one nuclear hangover  an overindulgence in pastry and leaving our guide book with all our notes in Amelie's cafe.
Thanks to everyone who came to whoop, holler, dance and flash at us at the Pop In (scary!), Mark McCabe and The Sick To The Back Teeth Ofs for supporting with a great one-off band set and to Denis, Flo and the lovely gang that run it for having us.
Expect some exciting Autumn Shift related festival news very soon…
Tags: croissant comedown
Posted by admin | Filed under Gigs
Just over a week till the Pop In show with Mark McCabe & The Sick To The Back Teeth Ofs. Can't wait!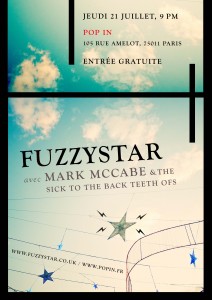 Tell us your coming on Facebook here.
Posted by admin | Filed under Gigs
Exciting news – the support for our Paris gig in July will be Mark McCabe & The Sick To The Back Teeth Ofs. We first met Mark in early 2007 on a trip to play a gig a Kilau in Aberdeen when we were Fuzzystar was composed of just two folks so it'll be great to be meeting up again in Paris with a big bunch of our noise-making friends.
This'll be a special show as Mark's getting this band of noise-makers together to back him for the occasion! Want to hear what that might sound like? Head to http://www.markmccabe.co.uk and imagine crazy backing in your head.